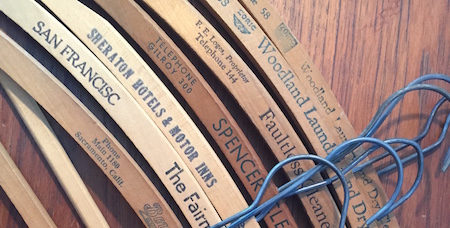 I have a collection of vintage clothes hangers. Sturdy wooden arches hung from a heavy metal hook. Hundreds of them, with all the clothes in my closet hung from them. Like most collections, I didn't set out to collect them. I saw a few at a garage sale or flea market or something and thought they were interesting, so I picked them up. Over time, I found more and more, until I ended up with a closet full.
Most of the hangers came from dry cleaners or hotels in the 1920s-40s. Because these were advertising products, they often have the name, address and phone number on them, just like the paper wrappers do from your dry cleaner today.
This is where an odd intersection of my love for vintage clothing and my professional life exist. My work with telephony has me dealing with phone numbers all day long, but numbers in those days were different. Phone numbers were four digits long, or sometimes even two or three digits. When more than 10,000 phones appeared, they broke them up into exchanges, each exchange having a name. So "Pennsylvania 6-5000" was actually "PE-6-5000" which translated to the modern telephone number 736-5000.
Some exchanges were so small that neighborhood businesses would just publish two digits. One of the hangers in that picture says "Telephone 58". That was their phone number: 58.