JSON Shirt
Freshness Warning
This article is over 13 years old. It's possible that the information you read below isn't current.
20 Dec 2006
I was going to put this on a T-Shirt, but CafePress won't let me upload any images right now.
Dave Kaufman's right (see comment). CafePress sucks. Here's the shirt on Zazzle.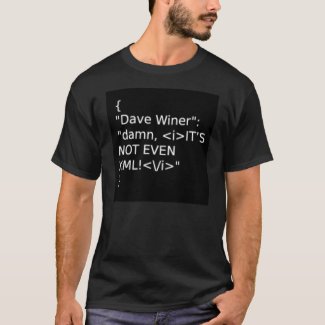 JSON not XML
Get this
custom t-shirt
at
Zazzle
This discussion has been closed.