JSON Shirt
Freshness Warning
This blog post is over 16 years old. It's possible that the information you read below isn't current and the links no longer work.
20 Dec 2006
I was going to put this on a T-Shirt, but CafePress won't let me upload any images right now.
Dave Kaufman's right (see comment). CafePress sucks. Here's the shirt on Zazzle.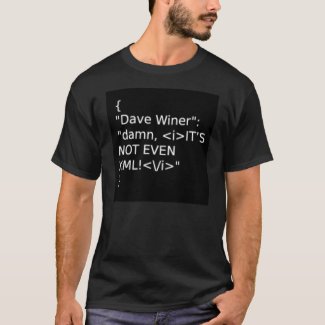 JSON not XML
Get this
custom t-shirt
at
Zazzle
This discussion has been closed.