Just in time for the holiday buying season, Amazon introduced a new product for affiliates today, Amazon aStores. Affiliates can pick products, add comments to the products, and change colors to match their sites. Affiliates can also choose what Amazon.com content appears on their store pages, including editorial reviews, user reviews, and wishlists.
Creating a store is quick and easy. I was able to create a store containing a few products in less than 5 minutes.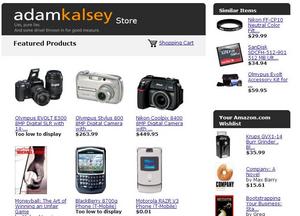 Shoppers at my store will see the products I chose, can add them to a shopping cart that looks like the rest of the store. When they check out, they'll get an Amazon.com login page that informs the shopper that I've partnered with Amazon to provide the store.
Amazon also launched Omakase Links, a tool that allows site owners to build dynamic banner-style ads with Amazon products. Amazon's legendary product selection intelligence backs the banner program, choosing products based on both behavioral and contextual targeting. Amazon says, "Omakase links will show an Associate's visitors what they're most likely to buy based on Amazon's unique understanding of the site, the user, and the page itself."
A number of IAB standard banner sizes are available and banners can be customized to include the Amazon.com logo, product images, and to match your site colors.
Omakase may be an attractive alternative to Chitika ads for some publishers. Although Chitika ads are CPC instead of Amazon's CPA-based program, the brand power behind Amazon may drive enough sales to make this a viable replacement.
Both Omakase and aStores are available to Amazon affiliates through the Amazon Associates web site.
This discussion has been closed.