It all started with some concerns about the security of Bloglines. I like web-based readers, but I was ready to graduate to something that I host. I settled on Gregarius, partly because Phil Ringnalda likes it. If Phil likes something, there must be a reason.
After using Gregarius for a few days, I became irritated with the default view. Links looked like regular text instead of a link. The text was gray on a gray background. For someone who spends at least an hour a day in my feed reader, that wouldn't do at all. But this was open source, so I hacked the stylesheets and made it a little more readable.
I started looking over the bug tracker and Subversion commit logs and found shiny new features I wanted to try. So I moved to the bleeding edge and started running the latest code straight from subversion, instructing my server to grab the newest every day.
Then I started finding bugs, as you're apt to do when you run development code. Soon I was fixing said bugs and submitting patches. I joined the developer's mailing list and started lurking in the IRC room to keep track of what was going on.
My CSS hacks evolved into a full-blown theme, although I was the only one using it. When the developers were looking for themes for some testing, I sent mine over. Before I knew it I was offering advice and such to the developers.
Today I officially joined the development team. I'm going to be focusing on usability and making Gregarius easy to understand, use, and install.
Want to try my theme? Download simplicity.0.9.zip (It's really made for Firefox. If you use another browser, you might not be happy with it).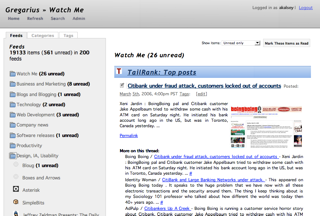 This discussion has been closed.