New license plate
Freshness Warning
This blog post is over 19 years old. It's possible that the information you read below isn't current and the links no longer work.
2 Sep 2004
I've just ordered a new license plate. I'm stunned that it was available.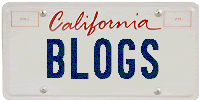 I'd love to know who owns the California plates BLOG, I BLOG, and BLOGGER, three other combinations I tried out. If you know, send them my way.
This discussion has been closed.