How long should your 1:1s be? How often should you run them?
My default is one hour once a week for people that report to me. The length is important since it often takes people a long time to come around to bringing up difficult topics. People don't like to discuss hard things and need some time to warm up before they get going.
Some managers like to do half-hour 1:1s, but I find that's not enough time to dive into meatier topics, and you're often just getting to the hard parts of the conversations at 25 minutes in.
If you don't take up the whole hour, that's fine. Let your report end early. But if they're consistently running out of things to say 10-15 minutes in, then you probably need to do some things to help the employee have a more effective 1:1. More on how to do that in a future blog post.
I start with once a week because this is sometimes the only time my team is talking to me, especially if you have a distributed team. While I encourage them to bring up things that can't wait if they come up between 1:1s, sometimes they just don't feel comfortable doing that. Having a weekly checkpoint makes sure that things don't go too long before getting handled.
If someone's a lot more senior in their role and self-sufficient, it might make sense to push these back to every other week. A CEO probably doesn't need to talk to the VP of Sales that's been with them 15 years every single week. Same with the tech lead on your team that's been a tech lead with this same team for many years. But it's important to realize that a senior person is only senior for that specific role. If you take a 20-year employee and put them in a new role, they're no longer senior and probably need to talk a whole lot more.
Cal Evans recently surveyed people on Twitter as to whether people hold one on one meetings (AKA 1:1s) with their managers, and how often and how long they are.
There aren't many more valuable things you as a manager can do with your time than to have one on one meetings with your reports. In High Output Management, Andy Grove talked about managers as leverage. If a manager's output is the sum of the output of all the individuals they manage and influence, then the amount of your output as a manager is increased not just by how many people you have, but the more productive those people are.
A key insight that Grove had was that the way to increase your output is to increase your leverage. If you can improve a person's activity or behavior over a long period of time by briefly supplying your words or actions, then you've achieved leverage.
You hire people because those 3 people can do more than you can by yourself. They are your leverage to increase your output. But if they're not effective, either because they're blocked, or because they're lacking direction, then their output—and thus your leverage—is going to be low. Spend an hour of your week to increase productivity for the other 39 hours of someone's work week? That's a great investment!
Looked at another way, you can spend one hour and focus or improve someone's entire work week, essentially buying you 39 more hours in a week, AND making their other 39 hours more effective. What could you do with 39 more hours in the week? What could your team accomplish with more productive hours? How would you not make time for that?
When I hear managers that don't have time for 1:1s it's usually because they're busy with other activities. These activities where the manager is doing work instead of setting your team in motion are low leverage. An hour spent on those doesn't get you anything more than whatever work you accomplished in that hour.
I'd much rather spend my hours doing things that result in more leverage.
A one on one meeting is one of the top ways you can build your managerial leverage: spend a little bit of time greatly improving the work of one person and watch your team's output soar.
Startup founders are often asked by investors, customers, and employees "what happens if [some big giant company] gets into your business?" The standard answers are along the lines of, "it won't be their focus and will be ours," or "what if they don't?"
But there's another reason. One of the very things that makes a giant company formidable is the thing that makes it hard for them to innovate. The giant sales force and distribution channels they use to take a product to market can get in the way of product innovation.
I was asked at a recent startup event what I thought about networking.
I am not a fan of the concept of networking. I don't have a LinkedIn account. I don't score myself on how many people I know or how big my stack of business cards is. I don't usually even carry my own cards, and when I do, they have just name and contact info on them, leaving off titles and anything else someone might use to add me to their network trophy case. When I go to an event, I don't try and talk to as many people as possible, flitting from conversation to conversation, just so I can boost my connection count. I find it obnoxious when people fill their Twitter bio with hashtags like "#entreprenuer and startup #mentor" or focus on "power networking" techniques like follow-back policies.
Networking is useless, because it's superficial. You may have 1000 business connections, but how many of them will jump to help you out, or even remember who you are?
Having a network is crazy important. Networking is not.
The difference is a network is an authentic thing. It's the people that you have legitimately connected with that you have talked to and formed a relationship with over time. A network is not "how many business cards I collect at the mixer on Tuesday night." It's not going to events and meeting as many people as I can. It's developing deep, meaningful relationships with people without knowing how those relationships are going to turn out. A real network isn't built by thinking about how the connections are going to benefit you. Building a network means making sure that you are providing more value to the other person that you're getting from them. It's constantly giving, constantly being involved, constantly making sure that you are helping them. Eventually something will come up where they're going to help you, not because you connected with them, but because you have a relationship with them.
As a manager, stretching your team is one of the best ways to improve your output, your team's happiness, and your velocity. Setting a "Big Hairy Audacious Goal" gives your team something to strive for, and even if they don't reach it, research shows that people that shoot for the moon and miss go farther than people who set easily attainable goals and reach them.
Psychologist Edwin Locke's Goal Setting Theory research found that regardless of discipline, harder goals resulted in higher performance. He also discovered that people with extremely hard goals "consistently performed at a higher level" than people with very easy goals, even though the harder goals were less often reached.
As anyone who has been bored by an easy job already knows, he also found that people with challenging goals had more interest in completing their tasks and reported getting more enjoyment from doing their work.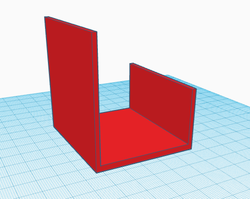 I have one of our newest products, the Cisco Spark Board, hanging in my home office. It's a combination digital whiteboard, video conferencing system, and wireless projector all in one. The 55 inch one I have is designed for small conference rooms and team huddle areas in offices.
Our desktop video systems that are commonly used in home offices have a built-in camera shutter so you can block the camera entirely, but room-sized systems like the Spark Board don't have one. That's inconvenient for a home office where I might not always want video going.
So here's a CAD file you can use to 3D print a shutter that you can slide over the camera when you're not using it. It's sitting on my 55" board, but might also fit a 70 board.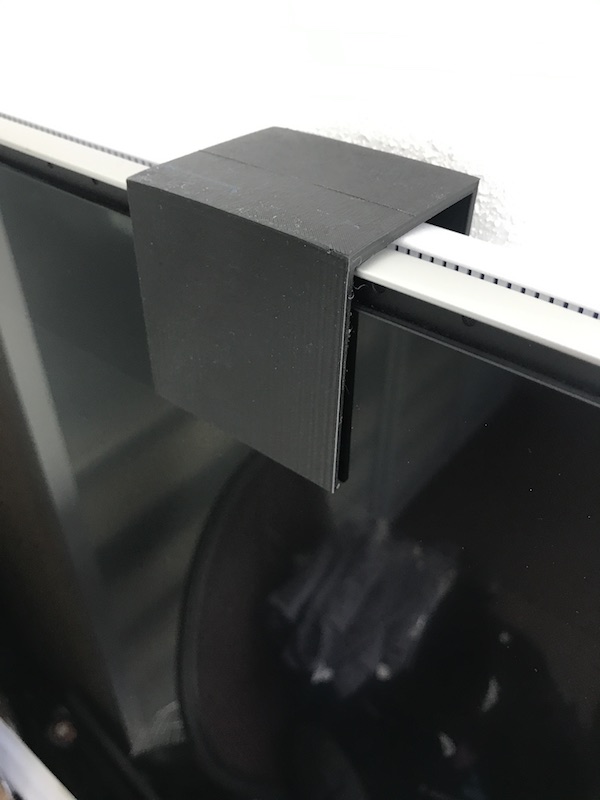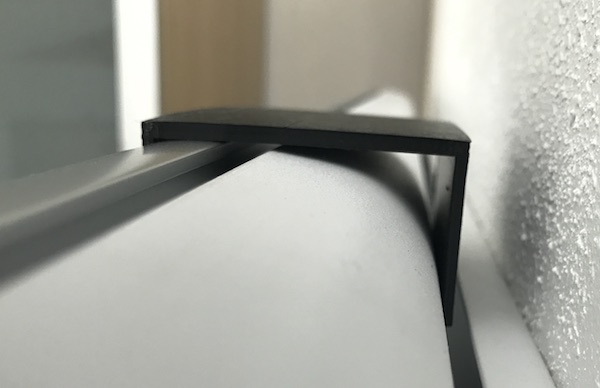 Am I the only one wondering what would happen if I unplugged that Ethernet cable? Jun 19, 2012 11 :03 via Twitter
Now I know why my hotel wifi signal is so good: http://t.co/ADAKVtPK Jun 19, 2012 11 :01 via Twitter
The Oakland A's are selling root beer floats to raise money to fight diabetes. Next month, how about beer proceeds donated to AA? Jun 18, 2012 12 :17 via Twitter
Dear gmail, please sort autocomplete contacts by frequency of use. I email my wife Christina way more than I do @ChrisPirillo. Put her 1st. Jun 17, 2012 7 :42 via Twitter
My son's school is selling or giving my contact info to local businesses. Lovely. Jun 16, 2012 9 :25 via Twitter
Two iPhones in the house took a swim this week. Opened them up, cleaned them out, they're both working again. Jun 15, 2012 7 :38 via Twitter
If your pitch deck is more about the animations than the company, you've already lost. Jun 15, 2012 3 :36 via Twitter
The ER is always filled with interesting people. Jun 14, 2012 10 :04 via Twitter
Proof reading is gud. Jun 14, 2012 6 :31 via Twitter